Professional Trainings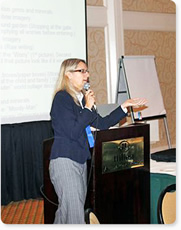 Dr. Courtney is known for her informative, playful, and inspiring presentation style and is available to provide half-day/full day or intensive trainings for your agency or organization.
The following training topics have been conducted by Dr. Courtney at various conferences and agencies over the years in her local south Florida area, nationally across the US, or internationally in countries including England, Ireland, Morocco, Russia, and the Ukraine.
Please contact Dr. Courtney directly to learn more about the specific topics below and for training rates and availability.
Developmental Play & Attachment Therapies is an approved provider through the following:
Florida Department of Health
BAP # 1035; expiration: 3/2012

Association for Play Therapy
APT # 10-287; expiration: 2/ 2014
Intensive Developmental Play Therapy 2013 Training Schedule
30 CEU and Play Therapy Training Hours
Previous Training Sessions
27 CEU and Play Therapy Training Hours
DPT Intensive Four-Day Training
Building Attachments Through DPT
Sponsored by Play Therapy International, Barnsley, England
June 17-21, 2011
DPT Intensive Two-Day Training, Jacksonville, Florida
Sponsored by Florida Association for Play Therapy
August 8 & 9, 2011
Florida Association for Play Therapy 2011 Annual Conference. Who is Viola Brody?
Presented to General Assembly. March 19, 2011
2010 International Play Therapy World Congress: Making a Difference-Innovations in the
Use of Creative Arts and Play Therapies. Marrakech, Morocco. Presentation of two papers:

Mother Earth Enters the Play Therapy Room (May 18, 2010);
Research Analysis of Child Psychotherapists AND Play Therapist's Experiences of
Developmental Play Therapy (May 20, 2010).
Trainings
Building Attachments through CARE Developmental Play Therapy℠ Intensive four day training program.  Click here for more information
Trainings in DPT will lead to a competency based certification CARE Developmental PlayTherapy℠ (CCDPT):
The Use of Metaphor in Child and Adult Stone Therapy (Presentations by Janet Courtney, Ph.D. and Robert Nolan, Ph.D. are available for your group. Click here for more information about Stone Therapy
Announcement:
Dr. Courtney's groundbreaking research into Developmental Play Therapy has been published in the Journal of the American Art Therapy Association. SEE:
Perspectives of a Child Therapist as Revealed Through an Image Illustrated by the Therapist, Fall, 2011, Journal of the American Art Therapy Association Vol. 28, Issue 3
Dr. Courtney's Chapter on Autism is now published. SEE:
Courtney, J.A. (2012). Touching autism through developmental play therapy.
In L. Rubin & L. Gallo-Lopez (Eds.), Play-based interventions for children and adolescents on the autism spectrum. New York: Routledge
Recent Training Offered by DPAT
Developmental Play & Attachment Therapies
Presented: Sir Richard Bowlby
Understanding Primary and Secondary Attachments
& the Role of the Father in the Attachment Process
April 7, 2010 at the Palm Beach County Convention Center
This workshop examined the significance of primary and secondary attachments for children and for adults, and how children can have two different attachment relationships with each of their parents.  The unique roles of the mother and father as both primary attachment figures were explored with specific emphasis on the role of the father. Participants were able to spend a morning with Sir Richard Bowlby who shared his insights into his father's upbringing and family life.
Other Trainings Offered by Dr. Courtney
Creative Play Therapy Interventions with Children and Families.
Gestalt Play Therapy
Promoting Positive Child Responsiveness with Young Children.
Qualitative Analysis of Images of a Child Therapist as drawn by the Therapist
Art Assessment with Children.  
Family Play Therapy
Creating Therapeutic Board Games with Children and Families.
The Use of Play Therapy in the Assessment of Children for Abuse and Neglect
Using Play Therapy in Helping Children with Grief
Advanced Techniques in Play Therapy
Play Therapy Treatment of Anxiety Disorders in Children
Group Play Therapy  
Creative Play Therapy with the Elderly.
Turning Healing into Play: Mind Medicine for Children
Testimonials from Student and Workshop participant Evaluations:
"She has a lot to offer, and I really liked the spiritual and gestalt perspectives that she presents. I also loved the exercises she did."
"Wonderful. This was great!  I would love to attend again."
"An amazing, warm, intelligent, charismatic presenter. Provided knowledge of play therapy techniques that I can apply immediately."
"The lecture was not only informative, but fun. Case examples were wonderful. I enjoyed the presentation and it was more than I expected."
"I enjoyed her real-life case study examples of practice and the techniques used."
"She is very empathetic and has a great knowledge of the field."
"She was very understanding and shared personal stories that were relevant to what she was teaching."
"Dr. Courtney is the epitome of a social worker. She is compassionate, knowledgeable, understanding, genuine and passionate."
---
Developmental Play & Attachment Therapies is an approved provider through the following:

Florida Department of Health
BAP # 1035; expiration: 3/2012
Association for Play Therapy
APT # 10-287; expiration: 2/ 2014